In memoriam…
"Time is a cruel thief to rob us of our former selves. We lose as much to life as we do to death." – Elizabeth Forsythe Hailey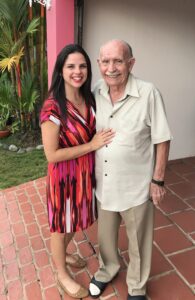 In the early morning of October 17, Dr. Angel Sanz took his last breath. In lieu of flowers, his granddaughter and Clínica Mi Salud Executive Director, Marucci Guzmán requests donations be made to the Dr. Ángel Sanz Marco Memory Clinic within Clínica Mi Salud.
Funds will be used to develop programming in his honor to support caregivers dealing with loved ones impacted by cognitive decline.
As a 501(c)3 non-profit organization, your donation may be tax-deductible. Please consult with your tax advisor.
Thank you for committing to make a difference!