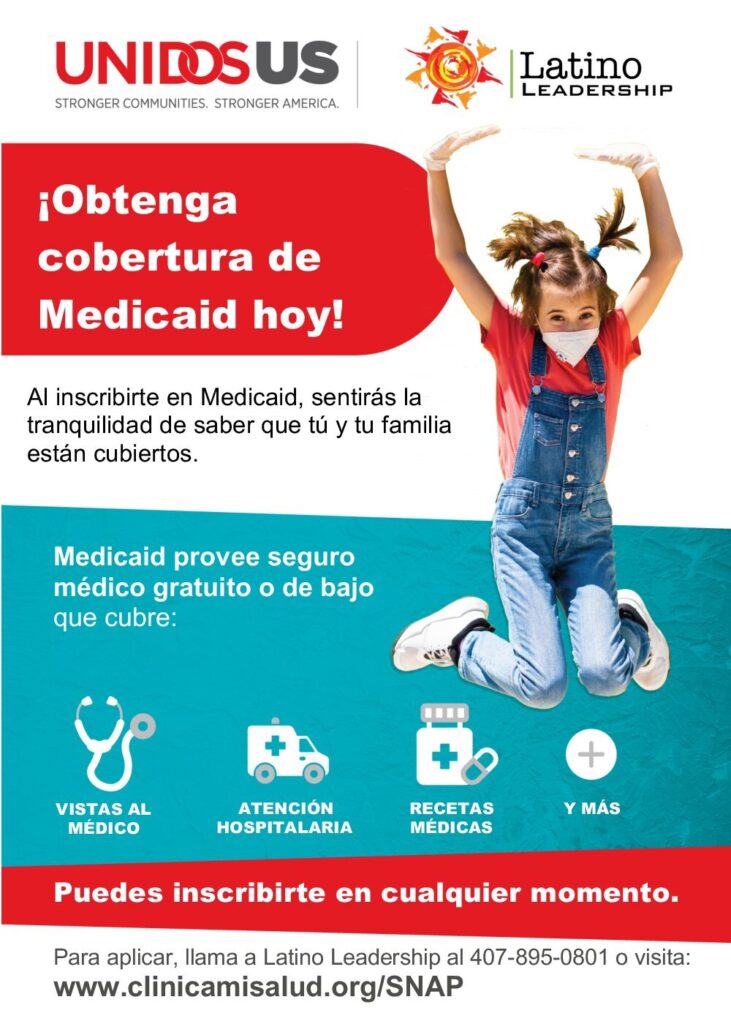 As a result of the isolation and job loss driven by COVID-19, many families are facing financial difficulties to cover basic needs.
Give your family the protection they need by enrolling in Medicaid and SNAP Food Stamps. These programs help ensure health care coverage and food assistance are available and easy to access.
Securing free or low-cost health insurance means there's one less thing to worry about. Medicaid covers doctor visits, hospital care, prescriptions, mental health care, and more!
Get application and enrollment assistance through May 2021 for MEDICAID Health Insurance or SNAP Food Stamps by calling (407) 895-0801, email: tusalud@clinicamisalud.org. Latino Leadership is here to HELP!
…
Como resultado del aislamiento y la pérdida de empleos provocados por COVID-19, muchas familias enfrentan dificultades financieras para cubrir sus necesidades básicas.
Brinde a su familia la protección que necesita inscribiéndose en Medicaid y asistencia de SNAP o cupones de alimentos. Estos programas ayudan a garantizar que la cobertura de atención médica y la asistencia alimentaria estén disponibles y sean de fácil acceso.
Obtener un seguro médico gratuito – o de bajo costo – es tener una cosa menos de que preocupare. ¡Medicaid cubre visitas al médico, atención hospitalaria, recetas médicas, atención de salud mental y más!
Obtenga asistencia con la solicitud y la inscripción hasta mayo de 2021 para el seguro médico de MEDICAID o asistencia de SNAP o cupones de alimentos, llamando al (954) 329-5263, correo electrónico: tusalud@clinicamisalud.org. ¡Latino Leadership está aquí para AYUDARLO!